State Farm Has Always Done Right By Me
Let me preface this post by saying that I'm in no way connected to State Farm. In fact, I don't even have any friends or family members who work there. I've simply had such a good experience with them in regards to a particular claim I filed recently that I felt it'd be the right thing to do to let the world know. It's pretty rare these days for a large institution to go above and beyond, and they deserve a pat on the back for this one.
The short version: they cut me the following check for $919.68 to repair my truck after it was keyed recently in a nearby mall parking lot. I have comprehensive coverage on both of my vehicles with State Farm (and a $0 deductible at that), so I filed a claim to get the door fixed. Doors are expensive to fix, but to fix the area that was keyed is far less than $919.68.
The long version: To my surprise (and my wife's surprise when she originally opened this piece of mail), the estimator did a full 360 sweep of the vehicle and took note of other, prior damage and included it in his repair estimate – and State Farm approved this, even though I told them about the previous damage ahead of time and specifically told them not to worry about it or quote it for repair.
Yes, they're offering to pay for and fix damage that they didn't have to – which is the key thing that blows me away here. It's incredibly nice of them to do this for us, especially when I made sure to spell out for them in advance that it wouldn't be needed.  You can see here where they didn't make any mistakes with this either, as they've clearly noted it as prior damage: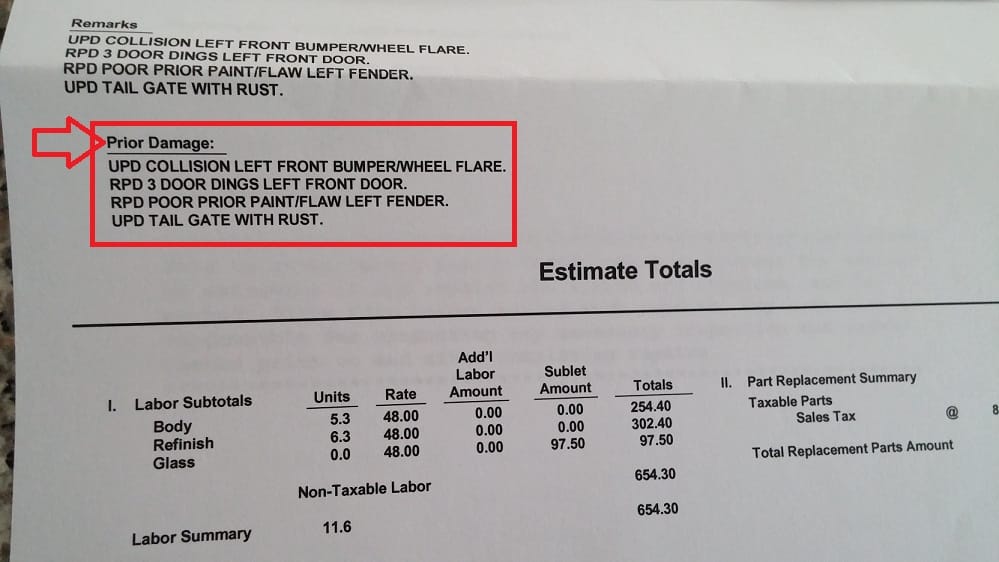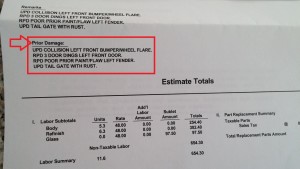 The prior damage occurred when I was hit by an uninsured motorist in California a couple years ago. It was a gentleman driving a landscaping truck with a sharp, metal truck box hanging off the back, who accidentally backed into my left-front fender and left a nice dent in the bumper (which also knocked my headlight and grill out of alignment on the left side).
His English wasn't very good and while he provided me with "insurance" documents to get my vehicle repaired, I quickly learned he did not in fact have auto insurance – just a general business insurance policy that his supervisor gave him to keep in his truck. This is what appeared to be the case when I looked at the documents, and when I called the number on them and asked. I was right – no auto insurance.
He offered to pay cash, but as angry as I was in that moment I made the decision to let it go. He seemed really afraid and dejected about what happened, and something in my gut told me he needed the money more than I did. So I took a long, deep breath and told myself to let it go and simply live with it.
Now at that point in time I could've called up my own insurance and had them deal with it, but the damage wasn't looking all that bad from a cosmetic standpoint (it was actually hard to tell at all that anything had happened at all until you were up close), and so I really did truly just let it go.
In the end, I couldn't be more grateful that the damage is now being fixed and on such great terms. I'll have to chalk this one up to karma coming back around on the flip-side. Thank you State Farm for doing this, we appreciate it.
PS – when we moved to Texas in August 2014, we did actually save about 50% by switching to State Farm, which is another +1 for them. (Although perhaps this could be explained because we're getting older now and/or because rates are cheaper all-around in TX. Either way, I don't really care – I'm happy.)